Making Us Write Cover Letters You Will Never Read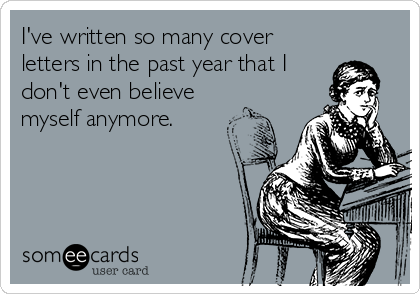 Do you really care? Really? Why do I want this job? Because watching The View in my pajamas got old.
We both know I can't actually write that, I have to write some fluff about how rewarding it would be to write about widgets for an audience of search engine 'bots. The thing is, if anyone ever bothered to read cover letters, applicants wouldn't mind writing them, but in a crappy economy no one cares how you can massage your experience to make it fit with the job requirements. Because if you got 800 applicants, it's probably a safe bet that one of those applicants has exactly the qualifications the hiring manager is looking for. Whether that person would actually be good at the job, fit well with the company, or be a person you'd like to have lunch with is totally irrelevant.
And, while we know we can't force employers to actually bother making a change, because we're all broke and need jobs, don't y'all think maybe you should worry a little about the karma that you're creating with these insufferable and idiotic demands on people who are already desperate for your crappy job in the first place?
Featured image courtesy of Shutterstock