If you went to grade school in the United States, you were almost certainly told at some point that there is no such thing as a stupid question. And like so many of the other things we were told in grade school, it's a lie: there are totally stupid questions, and everyone knows it. There are two ways in which questions can be particularly stupid: when you ask for information that you would know if only you'd been paying attention like you were supposed to, and when you ask for information that you really ought to know already.
The second category is tricky, because if you don't know something, it can be hard to know how that knowledge would be classified — advanced information that it's understandable you don't currently know? Or one of those random things that most people find out at some point, like what happens when you put Mentos in a bottle of Diet Coke?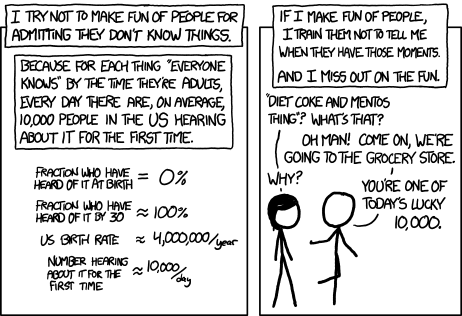 Or truly basic information that anyone in your position really ought to know?
Some sociologists did a study on how asking for advice affects other people's perceptions of your competence. In general, they discovered the cheering and reassuring news that if you ask someone for their advice, they'll perceive you more favorably. According to these researchers, if you ask me for advice, I will think you showed excellent judgment in asking me for my opinion. Up to a point, I think they're right. You can see this playing out in all the networking tips that tell you to ask people for their advice in how to get a job in their field, with the covert agenda of getting a foot in the door the next time they're hiring.
But, there are a number of ways in which I think these findings should be treated with caution. If you read the whole study, they found that if the potential advisor is notably inexpert in a subject, asking them for advice does not improve their opinion of you. They hypothesized that this is because they figure you must not be very bright to ask them for advice on a subject they know nothing about. This is perhaps oversimplifying; I think people may actively dislike having to answer questions when they feel out of their depth, and having to think about their lack of expertise makes them feel bad, and thus hostile toward the person asking the questions. I mean, thinking back to bad jobs I've had, the questions that were always treated with the most hostility were the ones where the person I was asking didn't know the answer, either.
It's also worth noting a couple of other things. First, the questions were never specific. In each iteration of the study, the question was always, "can you give me any advice?" An open-ended question is hard to find fault with, and that's not helpful if the real question you need to ask is, "Why is this not turning on?" or "Is it possible to get someone pregnant over the Internet?" or "Who do I call about fixing the cup holder on my computer?"
The sociologists were expecting to find that asking for help with an easy task might would make the advisor think you were less competent. They were surprised that this was not what they found: "When the task is easy, asking for advice confers no benefit. Interestingly, even when the task was easy, seeking advice did not harm perceptions of competence. However, it is possible that our easy task was not easy enough to elicit lowered perceptions of competence. We suspect that there are questions so inane that advisors would view advice-seekers as less competent."
It is also worth noting that most of these studies were done specifically on Americans, and Americans are a lot more generous about stupid questions than people in some other cultures. Remember the poll the audience feature of the game show Who Wants to Be a Millionaire? If you were on the American version of the show, audiences would consistently help you out with the answer. If you were on the show in France, on the other hand, they'd help you if they thought it was a genuinely hard question, but if they thought you really ought to know it, they'd give you the wrong answer on purpose because clearly you didn't deserve to win. And never ask Russians for advice about anything, apparently, at least if there's any money riding on the answer! 1
Finally, these studies were done in such a way that the Advisor could see no personal information about the person they were advising. In most cases, the advisors were actually responding to a computer simulation and being told it was another person in the study. So we don't actually know if people will upgrade you for your perspicacity in asking for their advice if you're noticeably younger or older than they are, or if you're female, or if you're non-white. A study conducted in 2002 identified a number of groups that tend to be stereotyped as less competent, including Hispanics, the elderly, and poor people; if you are already being stereotyped as incompetent, will asking for advice help you or harm you? I don't think this study can really give us an answer.
---
http://thesocietypages.org/socimages/2011/12/26/are-game-show-audiences-trustworthy/ ↩