It's that time of year again. A time of intrigue, scandal, and lots of pictures of dogs. Oh, yeah and Thanksgiving. I don't know about the rest of you, but I'm thankful for the awesomeness of the National Dog Show. Why? Who knows. I don't actually like dogs a whole lot. And I know literally nothing about dog shows, except for what I learned in Laurien Berenson's awesome mystery series that featured standard poodles as crime solving super dogs. Seriously. Go read it. It's amazing.
But, no time for chit chat, we're not dillydallying around here at all. We're right into the Hound dogs. You may remember that the Hounds are on the verge of global domination after Nathan's win last year.
Which leaves us concerned because this year's Best of Bloodhound? Nathan's cousin. Freakin' floppy faced nepotism right out of the gate!
Moot point, because Nathan did not win!
Neither did Muppet Dog. You don't know Muppet dog? Well, Muppet Dog has the posture of a dancer, just ask John O'Hurley, the best damn sports commentator ever.
Also, Muppet Dog looks like it is wearing a wig. I feel convinced that Muppet Dog doubles as a suburban real estate agent who focuses only on Victorian-era restorations. Wait. I'm told that Muppet Dog is actually an Afghan Hound. Irrelevant!
Next up, Whippets! Whip it good.
Oh. Wrong whippet. Now we've song poisoned you.
Whatever, you know you're only here for the dog pictures. And we know you're only here for the dog pics. It's fine. We're not mad, we're just disappointed.
Wait! No. We are mad. Because MOAR nepotism. Remember? Jewel? The American Foxhound who won this thing back in 2013?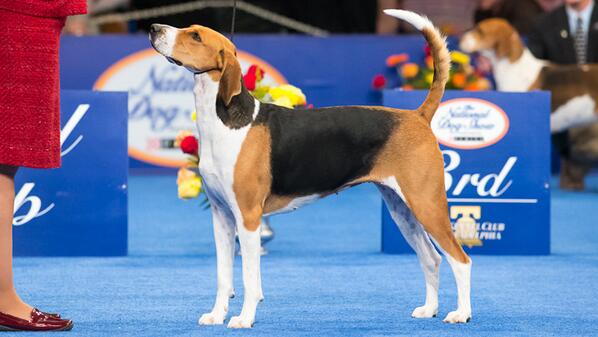 Well, Jewel's sister by another mister is here. We know all about you and your kind, American Foxhounds. We're watching you.
But we're not because the Deerhound won. You know – Deerhounds, they're like horses, but in dog form.
Bearded collie on the move! Are you wearing slippers Bearded collie? You look like a muppet.
And again, just because we can:
Powderpuff dog! We love powderpuff dog. His name is Bogey, and he's been around for awhile. For the record, Bogey has a sad story, he was robbed. Again.
Like three of his relatives, Bogey has now won Best of Breed several times, but he just can't nail down the big win. Why? Perhaps because he isn't actually a dog, he's a cotton ball just pretending to be a dog.
It's like those people who keep accidentally bringing their mops to the dog show instead of their dogs. The officials were too polite to tell them.
And the new mop dog:
But no dwelling on the mop dogs. It's the TINY DOGS! They're like the shrinky-dink version of real dogs!
Here is a video of the Chihuahua. Why? Because you need to see this stupidly adorable dog!
And now: the non-sporting dogs. They're sore losers. They're the dogs that take steroids and admire Tonya Harding.
Case in point? This dog will murder you in your sleep. Xoloitzcuintli is annoyed you mispronounced his name. Why are you touching my face, jerk?! If all these people weren't watching, I would take you down.
Alas, it was all moot. Because the Winged Terrier won. Fine. Skye Terrier. Not to be confused with Sky, the wire fox terrier that won a couple of years back. You know how we feel about terriers here. Their reign of terror only just ended and now they are back. Screw you, Charlie. We remember you from Westminster when you won the Group. With your insanely adorable giant ponytail situation.
Whatever. It's all nepotism and mops, these days.
At this point, we'd almost be willing to accept the poodle as our benevolent overlord. Just as long as it's not a cat. Cats would enslave us all.
To prevent the cats and poodles from joining forces and subjugating all other creatures, please consider donating to the ASPCA.