Microsoft recently announced that it was retiring one of its most infamous brands, Internet Explorer, and replacing it with a new product codenamed Spartan.  Cue the schadenfreude:  it's not since Clippy that there's been such a universal negative reaction to a Microsoft product.  Even Windows Vista seemed to have more fans than IE.
But, while IE may never have been cool, it was virtually ubiquitous. In the hoary old days of 2002, 95% of Internet users were turning to IE.  These days, IE's fallen well below 50% user share, and the numbers keep steadily plummeting.1
So what happened?  How does a brand fall so far?
IE got its start as a web browser that integrated into Windows 95.  Most users didn't care: Netscape Navigator was the go-to web browser, with a monolithic 80% of user share.2
But, with the release of IE 3.0 in the summer of 1996, IE became a serious threat. Microsoft suddenly and dramatically upped its game, with support for all kinds of newfangled multimedia things like audio(!) and video (!!), and even Java applets (!!!).
IE 3.0's release tipped off what was called the Browser Wars.
Users stopped using Navigator (part of a larger Communicator suite) and moved on to the feature-heavy and modern IE, en masse. 1996 saw Microsoft take a full 20% of the market; 1997 saw that double.
This isn't to say there weren't problems: almost as soon as IE 3.0 came out, experts began to find security problems with it, including the discovery that IE tracked every site users visited (sadly, a concern that seems quaint now).  Internet cognoscenti began to wonder about the effects of IE's sudden massive growth on the Internet's ecosystem.  The savvy started to push back against Microsoft's perceived monopoly and IE in particular, but that didn't stop the browser's remarkable growth.
In 1997 Microsoft released IE 4.0, which wasn't just a complete overhaul of the browser – it dramatically rewrote the product's ethos.  With this release, Microsoft wholly integrated IE into Windows 95.  This is the update that replaced Windows Program Manager with IE — the update that makes you gnash your teeth in frustration every time you try to uninstall IE and find out it's impossible. It's also the update that prompted awesome pranks like this:
But the update also spurred the U.S. Department of Justice into action:  in 1998 it initiated an antitrust lawsuit, accusing Microsoft of attempting to establish a monopoly that would demolish competition from Netscape, among others.  Pivotal to the case's argument was how IE now came bundled with Windows 95 and couldn't be removed, a case paralleling the 1969 suit against IBM.
In 2000 the DOJ ruled that Microsoft had acted unfairly, and it ordered Microsoft to break up into two separate units, one to handle the OS and the other to handle other programs like IE.  But the damage was done, and the First Browser Wars were all-but won:  in 2000, IE's market share topped 85%.  Who wouldn't want an awesomely unstable Active Desktop which allowed you to replace your desktop with Internet content for some totally inexplicable reason?! In sharp contrast Netscape continued quietly petering out, despite attempts to revive the brand.
So, what changed? Well, IE 6 certainly didn't do the software giant any favors. Whereas previous releases had adamantly supported all web standards, IE 6 didn't do so — meaning that designers had no guarantee how a page would look.  To a lot of users and experts alike, that looked arrogant, as though Microsoft perceived themselves as having sufficient market share that they didn't need to play by anybody else's rules.  Huge security flaws in IE 6 did nothing to help the cause.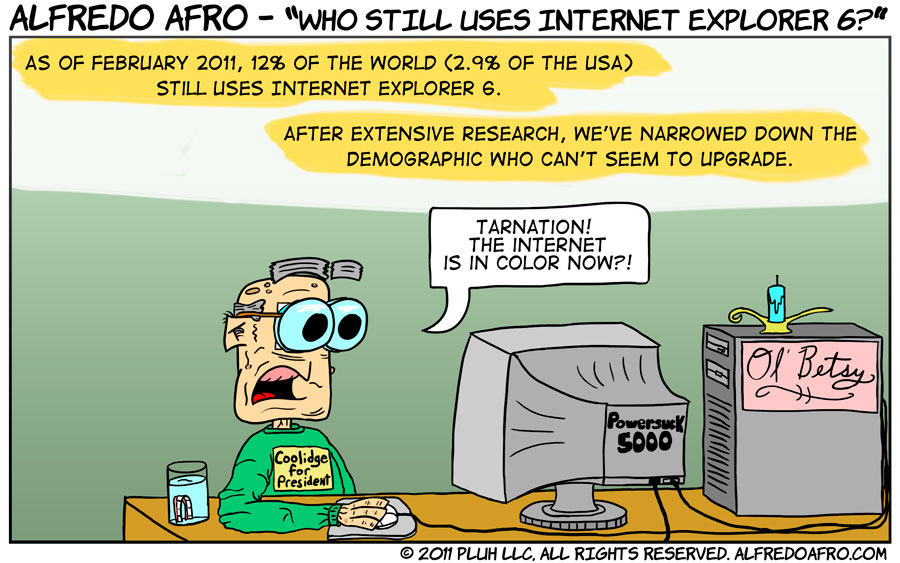 But, as Microsofts own history demonstrates, poor tech doesn't necessarily mean failure. Netscape's surprising and complex 2004 rebirth first into Phoenix and then into Firefox, with hints of AOL and a dash of office politics thrown into the mix further challenged IE's hegemony. Mozilla's open source philosophy appealed to many users, and in a short space of time the new(ish) organization challenged IE's technical pedigree.3 Firefox's market share began to grow, and IE's plummeted, as everyone suddenly "knew" how awful IE was.
Ironically, IE eventually cleaned up its act: IE 9, released in March 2011, adhered to all web standards, and was comparatively stable, quick, and secure.  But thanks to many troubled releases IE couldn't shake its bad rep. Globally, IE flavors combined had only a 40% usage share in 2011.4  Firefox took home some 20% of the market in 2011, and a new challenger, Google Chrome, had nearly 10% on lock.
The Second Browser Wars are still on:  Google Chrome has some 50% of the market these days. IE is far from dead, but with a market share of around 20% it has been suffering for a long time.  Its code these days is, by and large, solid — but if you were Microsoft, wouldn't you want to rebrand your product and shake that reputation?
---