It's that time again, settle in for a recap of RuPaul's Drag Race (Logo, Monday 9/8c)
Well, that didn't last long. We were super into the winner from last week's fashion show and nudely competition: Violet Chachki. But then this week, she was all super sad despite having won. This is not a great look on anyone. But then, we were also not impressed with Pearl, because yeah…everyone is playing a game. You're on a reality teevee show that is so bitchy, it's practically performance art. So, we are favorite free, until we find a new favorite. And we reserve the right to return to earlier favorites.
The mini-challenge this week is to make awesome faces while taking a leaf blower to the face. Which turns out to be really fucking funny.
For no reason we can see, Moby is here to watch leaf blowing palooza. Moby was also on King of the Nerds, which we are also super into! Now, if Moby would just do a cameo on Dr. Who…
The main challenge is to lip synch for Glamazonian Airways live in front of the judges. The songs are actually super cute. Much is made about the handing out of roles by Ginger, but it seems like a non-issues. Sasha is sad about his role. Unfortunately, we can't tell the difference between the performers because of our previously confessed face blindness so we don't really know if Sasha has a reason to be sad. Also, apparently none of the ladies are "dancers". So, either they are setting expectations low – or our expectations are very high because there is damn good drag in the Twin Cities. Yeah, that's right – we know, you all don't believe us, but it's true. We are awesome at many things up here on the frozen tundra.
And, speaking of awesome. Who the hell is Max? Damn good performer, cute look, but: Hudson, Wisconsin is around the corner from Minneapolis-St.Paul, and it's hard to imagine anyone performing in Hudson isn't heading down to the cities to perform. What's your story Max, YOUR ADORING PUBLIC NEEDS TO KNOW!?!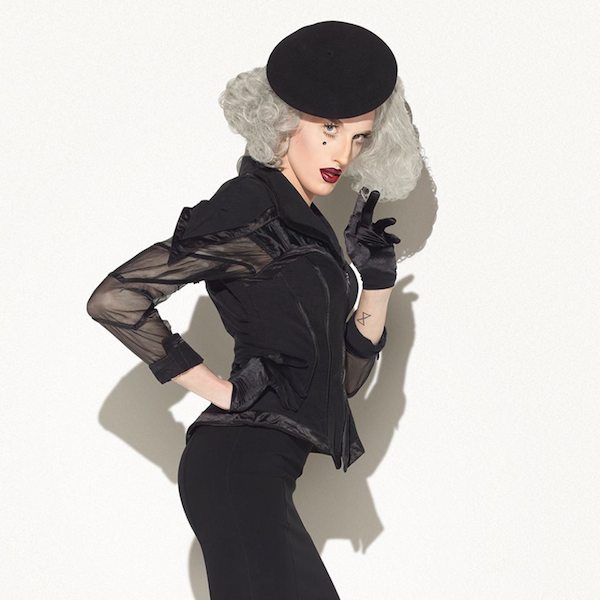 Jaiden confesses to a knee injury, explaining a complete inability to perform, but we are not buying it. And neither were the other performers.
And then, Ginger accidentally read Miss Fame, saying that she wasn't a "performer, performer". Which is almost exactly what Miss Fame said while they were prepping for the mini-challenge. But, it sounds way worse when someone else says it. And, Miss Fame explains her (actually, really, for serious) sad backstory and now we are rooting for her more.
Olivia Newton John is here! We love Olivia! And she looks so pretty!
We could not find videos of the songs, but they were pretty awesome. Here is a photo, go watch the episode.
Next it is fabulous fashions on the main stage: theoretically "Jetsetter Fashions". Which the Queens interpret…loosely.
None of the queens are super standing out – even with our total inability to remember performers. Ru, you need someone like Raja, Chad or Sharon Needles. Someone that will command the stage, and who's real life personality is not coming across as super annoying. Not looking at anyone in particular, Violet.
Anwho, returning to our recap: Ginger Minge won.
Despite wearing an outfit that made no sense. But we like Ginger, so more power to her.
Aw, crap, it's a good thing we have DVR up in here. We had to rewind RuPaul's announcement of who was lip synching like three times to figure out who it was.
Lip Synching for their lives: Katya vs Sasha.
We are not in love with the choice of Olivia's song. But, Katya did a much better job, not to mention had the better outfit:
It was pretty obvious, Sasha…you did overthunk your strategy. And your hair. TOO MUCH HAIR.
And Ru made the right choice. Sasha is sashaying away.
Want more Drag Race? Watch Pandora Boxx's recap!